Astronomers turn robotic eyes on our cosmic home, the Milky Way Galaxy
Thanks to a breakthrough robotic innovation, an international collaboration which includes the University of Toronto has advanced the Sloan Digital Sky Survey (SDSS), a 20-year-long research project that has been investigating the structure and evolution of our cosmic home, the Milky Way Galaxy.
A new Focal Plane System (FPS) is at the heart of the fifth phase of the project, SDSS-V. The FPS replaces a time-consuming, hands-on approach to making simultaneous observations of hundreds of stars which required astronomers to manually plug hundreds of optical fibres into holes drilled into a metal plate in the focal plane of a telescope.
With this new innovation, FPS's 500 robotic positioner units replace human hands and precisely maneuver optical fibres into position in the telescope's focal plane so that each can gather the light of a specific star within the target area.
"We are going from collecting a few thousand spectra per night to nearly 15 thousand," says Juna Kollmeier, director of SDSS-V, the fifth phase of SDSS, and director of U of T's Canadian Institute for Theoretical Astrophysics (CITA).
"It's a fantastic change in how we operate that will not only allow us to survey more objects, but to probe these systems over time, on timescales we couldn't access previously. This opens up a tremendous wealth of new science."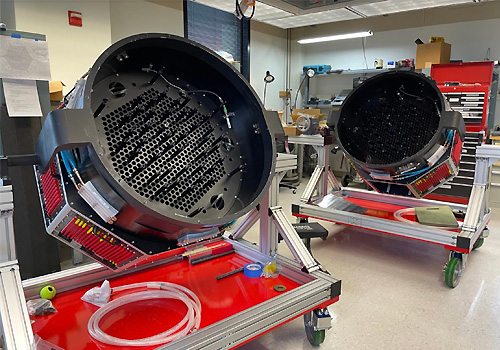 In addition to Kollmeier, other U of T astronomers involved in SDSS-V include postdoctoral fellow Ted Mackereth (CITA), and professors Jo Bovy, Maria Drout and Ting Li (David A. Dunlap Department of Astronomy & Astrophysics).
"I run massive calculations about the Milky Way Galaxy," says Mackereth. "At the end of the day, I want to test these ideas and SDSS-V will be a key way to do that."
For full article, click here