FRB Day 2019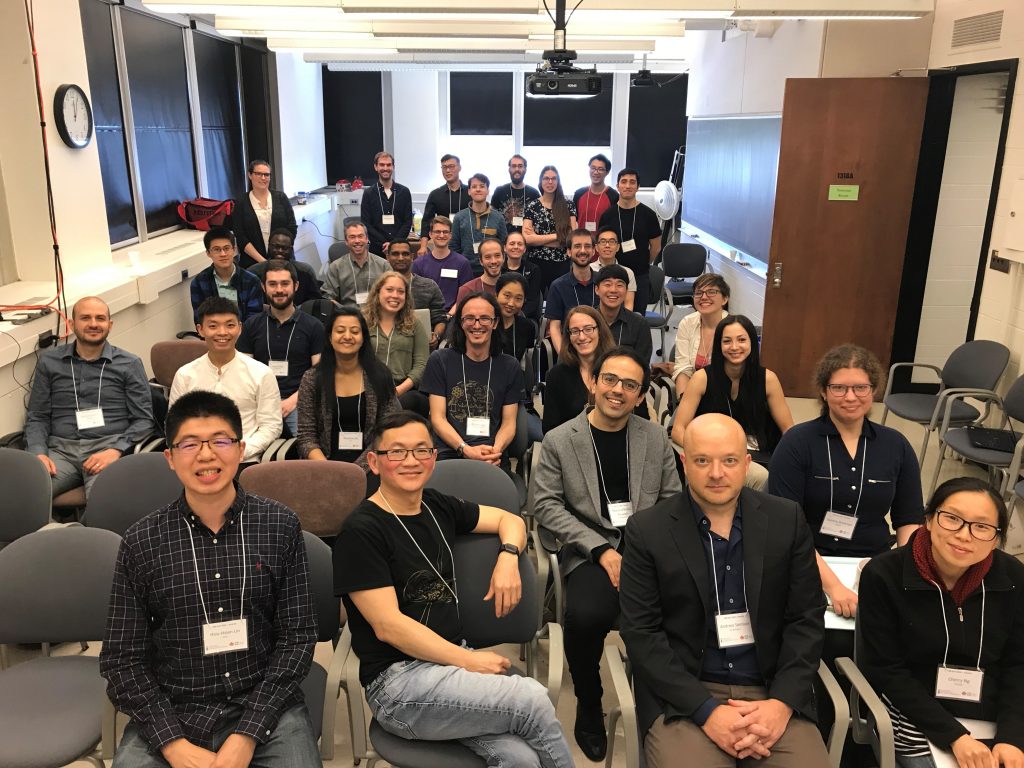 A lot of exciting progresses have been made in the Fast Radio Burst (FRB) field and here in Toronto we have a decent-sized group of researchers actively working on FRB-related projects (CHIME, ARO, VLBI, to name but a few). For these reasons, we thought it would be timely to host an FRB Day in Toronto, that will be jointly organized by CITA and the Dunlap Institute. 

We invited four speakers within North America to each give a 45-min seminar. Two of the speakers were from the observational side and the other two were from the theoretical side.
The FRB Day is open and free for everyone, including undergraduates and graduate students, and may draw interested people from nearby institutes such as Waterloo, PI, York and McMaster. It is an occasion where we can learn about the latest development in the FRB field through talks, followed by a panel session where questions and ideas could be exchanged.
Find more information here
Date: June 6, 2019
Location: McLennan Physics Labs (MP 1318), University of Toronto, 60 St. George Street
Local Organizing Committee:
Prof. Ue-Li Pen
Prof. Bryan Gaensler
Dr. Hsiu-Hsien Lin
Dr. Cherry Ng
Invited Speakers:
Participants:
Name / Affiliation
Ajay Gill / Dunlap

Akanksha Bij / CITA

Alex Roman / Perimeter

Andre Renard / Dunlap Institute

Andrew Siemion / UC Berkeley

Ayush Pandhi / University of Toronto

Bethany / University of Toronto

Cherry Ng / Dunlap

Dana Simard / University of Toronto

Daniela Breitman / McGill

Dongzi Li / CITA

Dustin Lang / Perimeter Institute

Emily Tyhurst / CITA

Fang Xi Lin / CITA

Hamsa Padmanabhan / CITA, Toronto

Hannah Dykaar / University of Toronto

Hao Xu / CITA

Hsiu-Hsien Lin / CITA

James Willis / CITA/Dunlap

Jason (Jaemyoung) Lee / CITA

Jing Luo / CITA

Lorenzo Sironi / Columbia

Marten van Kerkwijk / DAA

Masoud Rafiei-Ravandi / Perimeter Institute

Matt Dobbs / McGill

Patrick Breysse / CITA

Pavel Motloch / CITA

Renee Hlozek / Dunlap/DAA

Ryan Mckinven / University of Toronto

Shannon Vanderwoude / University of Toronto

Simon Foreman / CITA

Steffani Grondin / University of British Columbia

Tarraneh Eftekhari / Harvard CfA

Tina Peters / Dunlap Institute

Tomas Cassanelli / Dunlap Institute

Ue-Li Pen / CITA

Uttkarsh / Perimeter Institute for Theoretical Physics

Visweshwar Ram Marthi / CITA/Dunlap/NCTA

Wei Zhu / CITA

Wenbin Lu / Caltech