Food & Drink
The New York Times sets the scene for walking and eating in Toronto in a February 2014 article, Toronto's Ethnic Buffet.
* Getting your bearings:  Toronto streets are on a grid.  Yonge Street delineates east from west.  The downtown campus is west of Yonge Street.   The CN Tower, among the tallest freestanding buildings in the world, is south of us.  The smokestack for the campus heating plant is directly south of CITA.*
Food Options
There are plenty of good food options within walking distance of our offices  and this guide provides for everything from quick lunches to evening meals and weekend adventures. The list is by no means complete –  it's designed to get you out into the city, and anything on this list is guaranteed to get you a good meal and an interesting-to-charming- environment. Costs range from cheap to moderate. Moderately highly priced places on the list are here because they're worth the visit.
Once you're in a neighbourhood, you can easily check reviews of neighbouring establishments that catch your eye  on Yelp, a crowd-sourced review site.
This list is amended and curated by CITA faculty, post-docs and grad students periodically.
You can also check out Toronto.com click on Restaurant Finder where you can search by neighbourhood. Check areas close to U of T such as: Chinatown, Kensington Market, The Annex, University of Toronto.
* listed by distance from CITA*
450 meters – 1.4 KM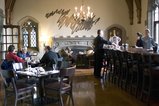 Lunch/brunch  –  Gallery Grill –  450 meters east across campus, north around King's College circle, and northeast again around Hart House circle, at the east end of the building on the 2nd floor, a lovely semi-formal dining room in the rafters of Hart House.
Dumplings – Mother's Dumplings – great food but service is a bit slow (make sure you head there quickly!), best for a large group with sharing, about $10 per person or less, 650 metres on Spadina, south of College Street  link:  http://www.mothersdumplings.com/
Pizza Slices –
Fresca Pizza – take-out – 700 meters south and west  on College Street
Cora Pizza – take-out –  700 meters northwest   656A Spadina
Papa Ceo – 700 meters  northwest, next to Cora Pizza –   take out
Gastro Pub – The Harbord Room – 750 meters west on Harbord Ave
Italian all day  – l'espresso bar mercurio – bustling modernist interior, 800 meters north –  on the southeast corner of Bloor and St. George.  Check your bill to see if gratuity has been included before you tip! student discount 20 %
Malaysian –  Matahari – entrees around $12-16 for lunch, 850 meters south on Baldwin Street
Seafood, Chinese  –  Xam Yu Seafood Restaurant – some discerning foodies advise this is the best seafood in Chinatown , 900 meters south of CITA, to Baldwin Street, east to Spadina.
Ice cream –  Greg's Ice Cream  around since the faculty were Post-Docs – 1000 meters, north and just east of Spadina on Bloor, next to the JCC.  Sample the flavors.
Beer  – Sin & Redemption – good menu of imported European beers for the aficionado, 1000 meters east, and south on McCaul Street
Brunch –  Aunties & Uncles – 1100 meters from CITA west College Street,  just north on Lippincott.  The only problem is  it's hard to get in.  So go if you're an early weekend riser, or go and be prepared to take a pass if the lines are prohibitive.
Tacos, fusion – Seven Lives Tacos y Mariscos  –  delicious (pricy) gourmet tacos, worth considering, 1100 meters, south on Spadina Ave., and west, between Baldwin and St. Andrew, on Kensington Ave. in Kensington Market. See the review linked.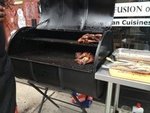 Jamaican-Italian – Rasta Pasta  – take out, next door to Seven Lives Tacos,  1100 meters south on Spadina Ave., and west, between Baldwin and St. Andrew, on Kensington Ave., in Kensington Market.
Noodles – King's Noodle  –   1100 meters south on Spadina Avenue at Dundas.  Brunch, lunch, dinner. Noodles.

Noodles – Vietnamese –  Pho Hung – 1200 meters south on Spadina Avenue, soup and/or noodles in S,M,L for any appetite, fast, and delicious. fresh & fried spring rolls.  a local you could eat in every day.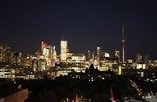 Bar with a view –  The Roof, Park Hyatt Hotel, 18th floor.  – 1200 meters northeast, a scenic route through campus, up Philosopher's Walk, east on Bloor, and north on Avenue Road to the entrance of the Hotel. Through the entrance walk south through the lobby past the concierge desk and continue down the corridor to a foyer with a bank of two  elevators serving the south tower of the hotel. wine starts at $15/glass
1.5 – 2 KM
Brunch –  The Queen Mother – 1500 meters, two scenic walk options, due south on St. George – Beverley – across Grange Park – John – east on Queen, or St. George – College – Henry – Baldwin – McCaul – Queen (walk east)
Dim Sum – Crown Princess Fine Dining – 1600 meters west,  affordably priced in a Versailles-like dining room, a scenic walk  across campus, through St. Michael's College to Bay Street, between St. Joseph and St. Mary Street on the east side of Bay Street
Beer & pub food  –  Bar Hop – 1.9 KM, due south, on King St. W. at Charlotte, a real favorite amongst the discerning post-docs; popular too so best with a group of four or so.  beers for the aficionado.
Fish sandwiches – The Fish Store and Sandwiches –  2 km west on College St., take out fish sandwiches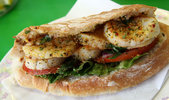 2+ KM
Tacos El Asador – under $10, Mexican,  in Little Korea,  2.2 KM from CITA, on Bloor, just east of Christie Station.  Scenic route: walk along College Street, up Palmerston and zig zag.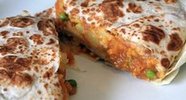 Roti & butter chicken – Ghandi Cuisine – 2.2 KM south & west.  scenic route, west and south through Kensington Market, south through Alexandra Park, west on Queen Street – about 25 minutes walk.  Alternative route, west on College Street and zig zag through the residential streets
Italian Bakery – Forno Cultura –  2.5 KM, south and west of Bathurst on King St. Scenic neighbourhood walk or run – zig zag through residential streets.  Opens at 7 AM.
Indian –  two Indian restaurants, side-by-side serve diverse cuisine from the sub-continent, one a crowd favorite; the other a critic's favorite; both are deeply satisfying and affordable.    2.6 KM Bloor Street, west of Christie Pits Park        Banjara     and     Madras Masala    which serves south Indian food and specializes in paper thin dosas  TTC: Bloor line to Christie Station
Brunch –  The Bristol Yard  2.7 KM  from CITA, west to Grace St. which becomes Christie north of Bloor, and north of the Christie  Pits Park.  Walk through neighbourhoods or take the  TTC  Bloor line west to Christie Station weekend brunch 10-4
Beer & Drinks – Bellwoods Brewery – 3 KM distance from CITA, on Ossington Ave. between Dundas St. W. & Queen St. W. This gets you into the heart of the Ossington & Dundas West neighbourhood. which has more than its fair share of interesting-to-excellent bars restaurants and performance spaces.  The strip is anchored by Sweaty Betty's just north of Queen St., The Communist's Daughter on Dundas.  Everyone else came after they set the tone.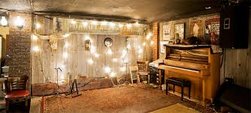 Brunch & country-tinged bands – Dakota Tavern – the Bluegrass brunch plate is served from 10–2 PM Saturday and Sunday. All you can eat platters of eggs, sausage, pancakes, potatoes, fruit salad, bottomless pots of tea and coffee, with music.   Scenic walk:  south through Kensington to Dundas, and west on Dundas, or take the Dundas Streetcar.  There's a rope line for bands almost every night at this place.
Further-afield at 5 KM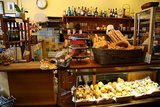 Brunch – Bonjour Brioche –  4.7 km south and east across the Don River Valley, a weekend excursion to Riverdale, it's 20 minutes by bike, 35 by transit, and a 60 minute walk to 812 Queen Street East at the corner of Degrassi Street
Polish – Cafe Polonez – 4.9 KM west on College, Dundas or Queen to  Roncessvales Village,  at 195 Roncessvales, south of Dundas (near Wright) Superlative traditional cabbage rolls, pierogies, stew, soup.  Near High Park.