The 2013 Welsh Lectures for Distinction in Physics Celebrate the Planck Collaboration with Dr. Jean-Loup Puget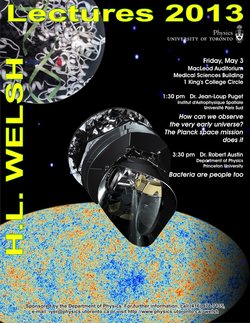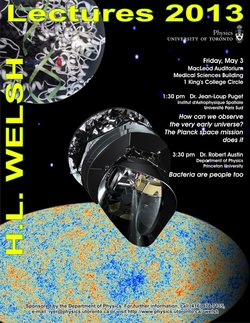 Dr. Jean-Loup Puget, Institut d'Astrophysique Spatiale, Université Paris Sud will speak on the topic, " How can we observe the very early universe? The Planck space mission does it."
Location: MacLeod Auditorium, Medical Sciences Building, 1 King's College Circle
Date & Time: Friday May 3, 1:30 PM
The Welsh Lectures have been held annually since 1975 in honour of H.L. Welsh, a distinguished former faculty member in the Physics Department. They are the major public event in the life of the Department of Physics and are intended to celebrate discoveries in physics and their broader impact. They are intended to be broadly accessible to an audience drawn from across the university, other academic institutions and the interested public.
The program includes two lectures, and moves from telescopic to microscopic themes this year: following Dr. Puget's talk Dr. Robert Austin, Department of Physics, Princeton University will speak at 3:30 PM on the topic "Bacteria are People too."
Dr. Puget will also give the CITA seminar Thursday, May 02, 2013, 3:10 PM in MP 102.
More on the 2013 Welsh Lectures
See CITA Seminar Archive October 13, 2011: Jean-Loup Puget on Planck and the Cosmic Infrared Background